A I recently learned that the wand makers also switched to an Apple, I thought that a blog post about using the Kymera wand with your Mac would be appropriate.
As most of you know all Macs come with an IR port that can be controlled with the Apple Remote. And as this is just another remote control you can teach your Kymera Wand the codes quite easily.
That is enough to control the basic functions of your Mac with the Kymera Wand. Using the wand you have FrontRow, DVD-Player, Keynote, iTunes and volumne control at your command.
I show some of this in the youtube video I made on the first evening after I received my wand.
There have been some issues with the IR support on the new Mac Book Pros running Snow Leopard but I'll come to this later.
To make the most of your ability to charm your Mac it is useful to get a fine grained control over what happens at each of the remote codes that is received.
To do this you can use an application like Mira or RemoteBuddy that allows to select for each application a different set of behaviors on the reception of the 6 IR signals. E.g. navigating your web browser, reading your Preview files or controlling VLC or whatever you'd like to do.
They also allow to change the global effects of remote codes and offer specialized menus for easy application switching and much more.
Here is a screenshot of Mira's control panel


And here one of RemoteBuddy's Control Center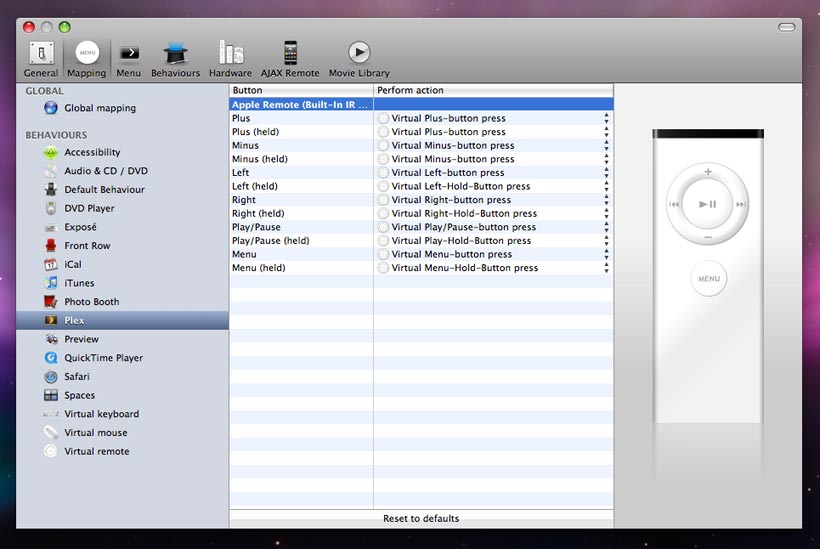 As I had some issues with the Snow Leopard running on my MBP the guys from TwistedMelon pointed me to the free CandelAIR IR-driver from iospirit (RemoteBuddy) that replaces the Apple one and runs more stable and also just works.
Controlling Keynote with your Kymera Wand is especially tempting as you can show off with your wand at the event your presenting at. I did so at the JAOO software development conference in Aarhus, Denmark.
If your feeling like it you can also do your homegrown solution using AppleScript to decode and send the events you'd like to anywhere in the system. Andreas Rothaug did just that and documented and filmed his solution on his blog.
Apple 'Magic Wand' Remote System – homebuilt from kame anderson on Vimeo.
The code looks something like this (full script at his site):

on kymera(gesture)
--say gesture
if gesture is "swing" then
tvpower()
end if
if gesture is "up" then
tell application "System Events"
key code 53
end tell
end if